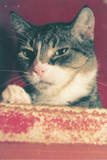 This is Whoopi, the little troublemaker that started it all--We got her as a little kitten on June 5, 1992--She's always remained a petite little gal, even though she's fourteen years old.
BELOW ARE FOUR OF WHOOPI'S KITTENS WHO WERE BORN ON APRIL 6, 1993.
Demi was one of the cats I surrendered to Animal Care and Control--she was listed up for adoption and WAS healthy, but developed respiratory infections while there--and was euthanized.
Shelby was a lucky guy--he was taken in by a pet rescuer at her santuary upstate NY, and is going to live the life of luxury with his very own quilted bed to sleep in. Same with E.T. and Ashley. who were also taken into pet santuaries.
DEMI
Demi was born April 6, 1993. She was taken
in by Animal Care and Control on April 18, 2006.
She was listed and up for adoption but unfortunately
developed "kennel" cough and was euthanized.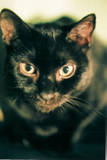 SHELBY
Was abrother to Demi, also
born April 6, 1993. He was a
lucky one, in that he was taken
in by a pet rescuer and is living
a life of luxury.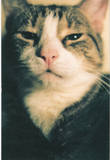 E.T.
Hard to believe that E.T. is
a sister to Shelby. She always
remained a petite, little gal. She
too, is with Shelby at a pet sanctuary.
And, no, she's not missing an eye, but
was winking at me in this picture.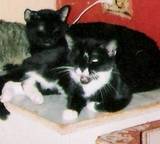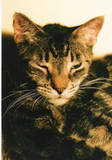 ASHLEY
A big loveable guy, who was
also taken in by a rescuer
and now living in a
pet sanctuary
Missing from this group of six kittens Whoopi gave birth to, are Pixie and Dixie--I'll post pics of them soon. Pixie was a lucky guy, in that he was adopted by a wonderful woman named Virginia, and lives in an apartment in the Tribeca area of Manhattan, and shares his abode with a bird, a turtle and a lizard!
Dixie, unfortunately, had an infection in her system, and depite medications, didn't make it and passed on to the land of Bast